Metric have a lukewarm start, but heat up when they play older material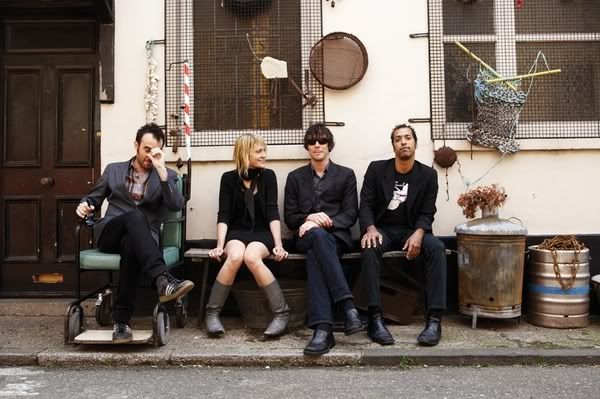 Metric frontwoman Emily Haines called Chicago "so enigmatic" because of a lazy response from the crowd after one of their songs. This was most likely not a reflection of how irrefutably tight the band was, but probably because half of the set was new, unreleased material. I'll admit, going into this, I was unsure of what album Metric was touring behind. With the re-release of their first album, Grow Up and Blow Away, I was sure that's what most of the set would be culled from. Instead, Metric opened up with two new songs, which were satisfying at first, but into the second song, it was hard to not want something familiar. Well into the fourth song, "Dead Disco," I was definitely feeling it. The crowd surely was, too. Everybody was dancing, and at this point, it was clear that while the fans were into checking out the new stuff, we all came to hear the good oldies.

The highlight of the show came midway through the set in the form of Live It Out's first track, "Empty." From the opening drones and guitar chords, everybody knew what was coming, and it couldn't have been more fulfilling: Haines sounded like she'd waited all night to do this song, and the band was a well-oiled machine, even down to the screeching guitar solo. The rest of the set from this point consisted of new songs and two tracks from their second album (Hustle Rose and Combat Baby). Following soon after, the encore came in the form of Metric's "biggest" song, "Monster Hospital." Classic in its own right from being used in television shows like Grey's Anatomy and recognizable from its "Bam-chicka-bam" intro to its "I fought the war, but the war won" chorus, I've always preferred the MSTRKRFT remix over the original. But after hearing it live, I am definitely sold on the fantastic bombast of the album version.

As for the sound of the new material, I'll say that I hope it's all in a rough stage. It was far more straight and narrow rock than their previous work, and as a longtime fan, I prefer the dancey rock sound of the first three albums to the balls-out rock approach. But one thing's for sure: With Haines' flawless and energetic delivery and the band's slick precision, Metric is definitely one of those bands that shine brighter on a stage than in a studio. With that said, they can and will make anything sound like perfection live. - Neil Miller Jr.