Jersey Boys Applaud Jersey Boys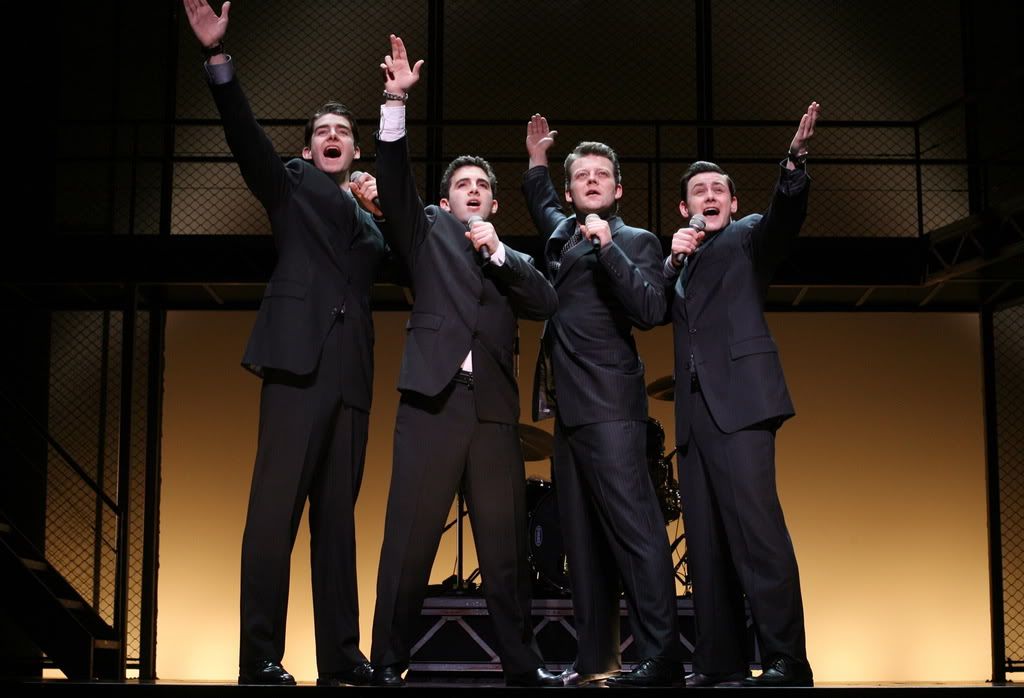 Who knew that "Oh What a Night," the song that makes women spontaneously erupt into dance floor girl-love, was originally written and recorded by Frankie Valli & The Four Seasons? Your parents knew, that's who, and most likely they've already purchased their tickets for Jersey Boys, the story of Frankie and his brood. If they were feeling especially nostalgic, maybe they even offered to take you. If not, call the box office now for your own seats.

This is not only your parents' musical. True, audience members of boomer-age or older were singing along even before the lights dimmed, but be advised: You don't realize how many of the group's songs that you, too, know all the words to.

The musical follows the rise to fame of the four original members of The Four Seasons—Frankie Valli (born Frankie Castellucio), Bob Gaudio, Tommy DeVito and Nick Massi—from the rough and tumble streets of 1962 New Jersey to just after their Rock 'n' Roll Hall of Fame induction in 1990. And what's a rapid ascent to stardom without liquor, gambling, loose women and requisite loss of innocence along the way? The rags-to-riches story is not unique to the Four Seasons, but their loyalty to each other combined with their irresistible harmonies is what set these men apart ... and keeps them lovable and popular today.

Jarrod Spector as Frankie Valli is exceptional. His likeness to his namesake in both physical stature and falsetto crooning is pitch perfect. The rest of the heavily male-dominated cast delivers solid performances, while the three female cast members play an impressive 11 to 17 roles each. No roles for the slow-footed as the performers are in perpetual motion, changing sets, costumes and characters faster than you can say "Bye Bye Baby."

The stripped down set provides an adaptable backdrop for the story to weave its course, from seedy bowling alley to American Bandstand, from the Jersey Turnpike to jail cell to jail cell to jail cell. Powerful lighting and the creative use of JumboTrons culminate in a powerhouse scene toward the end of the first act, providing the audience a backstage view of the newly famous Four Seasons performing "Walk Like A Man" to a packed house.

The real Frankie Valli and Bob Gaudio walked the red carpet and sat front and center of a full house on this, the opening night at Chicago's LaSalle Bank Theatre. While it was impossible not to fixate on these men and wonder what it's like to watch an entire cast re-create the good, the bad and absolutely also the ugly of your life, the three – count 'em, three – standing ovations that Valli and Gaudio initiated during the show made it apparent that they were plenty pleased. And with the multi-generational crowd jumping quickly to their feet behind them, it was clear that all were in agreement.-Amy Haggarty

Photo by Joan Marcus.