U.K. punk rockers Gallows treat the anti-Super Bowl crowd to a moshing good time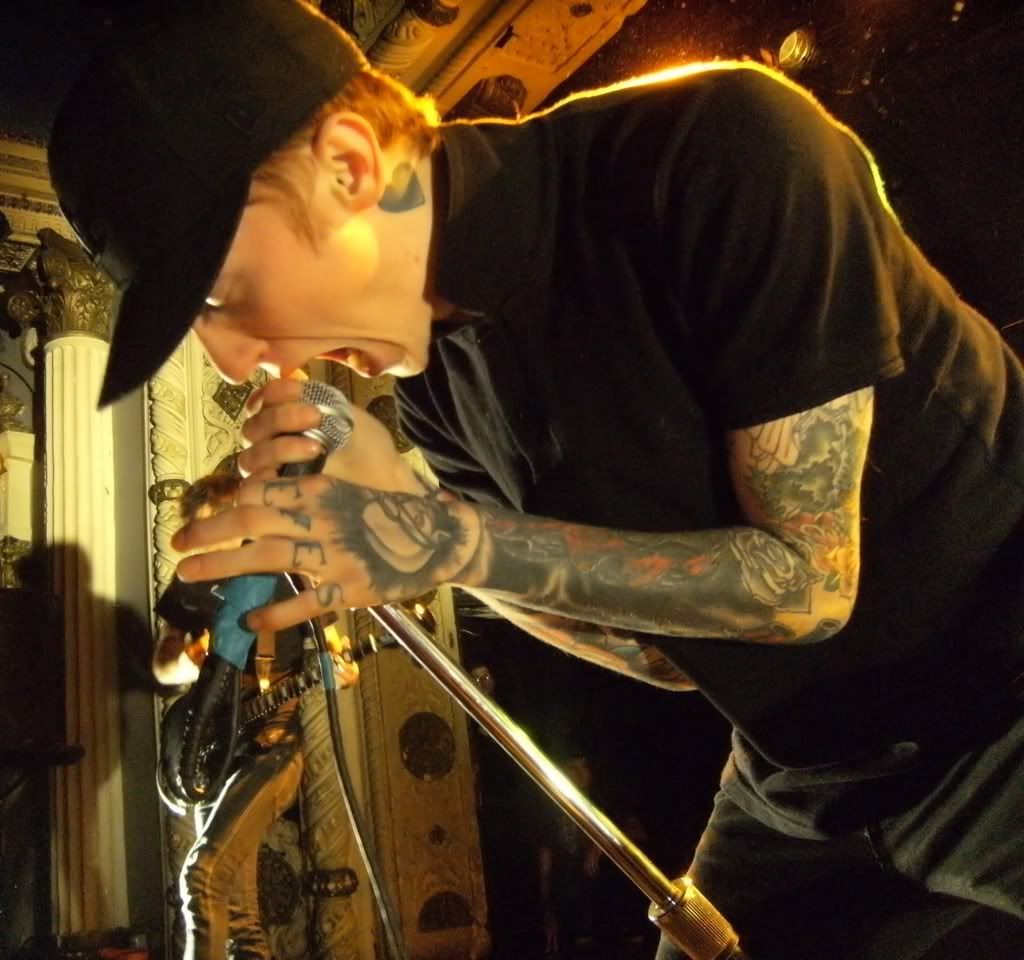 photo by Neil Miller Jr.

You would think it would be disastrous to have a show on the same night as the Super Bowl. In most cases, you'd be right. Gallows' performance at the Metro didn't sell out -- it really didn't come close -- but the people who did show up were treated to something very special. The first band, Cancer Bats, were thrash metal at its finest. Recalling the golden age of the genre, Cancer Bats prepped the crowd for what was to come.

Some people, like myself, were wondering who the replacement for the original second act, This Is Hell, really was. Dubbed "86 Bears" once the band took the stage, it was clear who they really were: Chicago's own Rise Against!. The melodic hardcore outfit tore through a set of crowd favorites such as "State of the Union" and "Give It All." Frontman Tim McIlrath joked, "I know some of you are expecting to see a 42-inch plasma TV behind us, but you're in the wrong club." What started as a minimal crowd grew to fill the entire floor of the Metro during Rise Against's set. After they finished, anticipation was mounting among the remaining fans still hanging around for the headliners, Gallows. Sadly, a lot of people left after Rise Against, but in retrospect, it was their loss.

In my entire lifetime of concert going, I can honestly say I've never seen such a blistering, speed-injected, in your face show as the one Gallows puts on. It isn't just about the music, which was surprisingly tight considering all the manic running and jumping they do. For the U.K.'s Gallows, it's also about connecting with your audience, and they're perfectly aware of that. With the crowd downsized so much, it proved to be even easier for frontman Frank Carter (who was voted No. 1 on NME's "Cool List") to bridge the gap between the stage and the crowd. While performing, Carter was all over the place, commandeering the stage like a madman -- but mostly he was inches away from the fans in the front row. Between songs, Carter's banter ("American football is just rugby with pads") and tour stories (or as some members of the crowd dubbed them, "poo stories") proved to be almost equally as entertaining as the performance. While every song was a highlight, with each being more chaotic than the one before it, a few really stood out. "Kill the Rhythm"' hit with such intensity, I swore I could feel my face melting off; gamers recognized "In the Belly of a Shark" from Guitar Hero 3. This song was transformed into a megaton blast of ferocity, blowing the studio version away, courtesy of Lee Barratt's incessantly flawless drumming.

When all is said is done, it's easy to say that Gallows' record, Orchestra of Wolves, is an instant classic. But to really see them in true form, in their natural element, you have to catch them live. Even if there were football fans in the Metro during the Super Bowl, chances are they didn't wish they were anywhere else but in front of that stage. - Neil Miller Jr.