Be the host with the most, thanks to these recipes for a great holiday party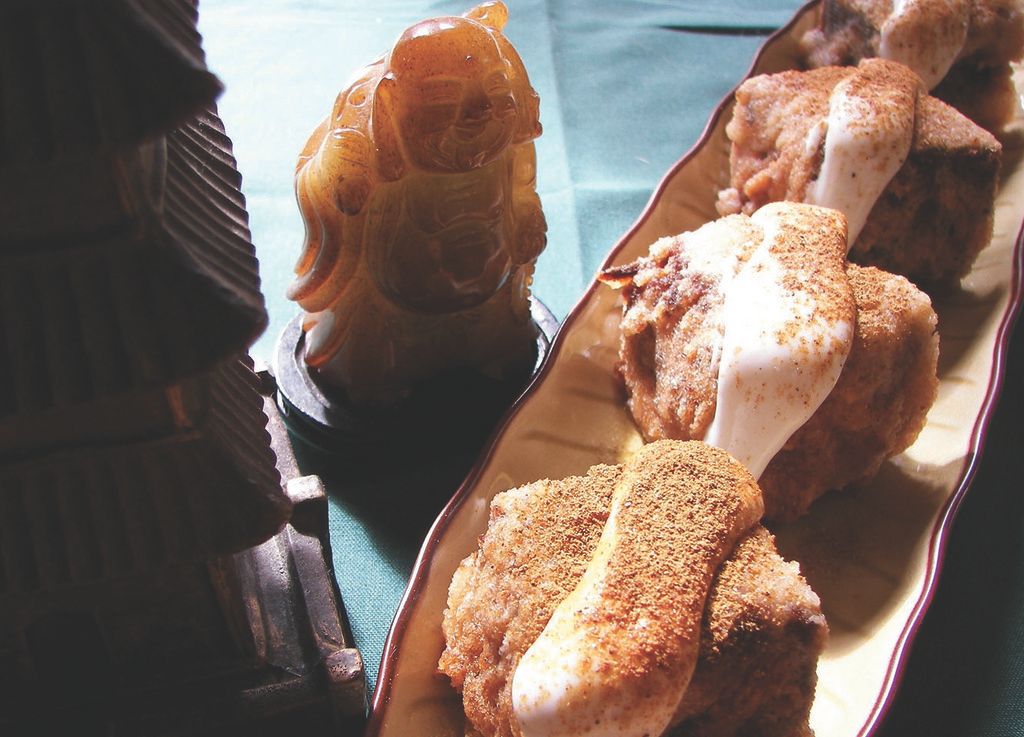 Viand's carrot cake fritters

Prime Rib Teasers
(Michael Cisternino, chef de cuisine, Tavern at the Park)

Prime Rib Ingredients:
- 2-4 lb prime rib loin (depending on size of party – 1 lb makes 10 sandwiches)
- 1 lb kosher salt
- 1/2 cup freshly ground black pepper
- 1/2 cup Lawry's seasoned salt
- 1 cup olive or vegetable oil
- 1/2 cup minced garlic

Fontina Fondue Ingredients:
- 2 qt heavy cream
- 1 lb Fontina cheese, cut into pieces
- 1 cup Parmesan cheese, shredded
- 2 1/2 cups egg yolks
- 1 tsp white pepper
- 1 pinch nutmeg
- 1 pinch salt

- 20-40 silver dollar rolls

Directions: Combine all ingredients for the prime rib in bowl and mix. Evenly coat outside of one prime rib loin with the mixture. If some is left over, that is ok. Place prime rib in a preheated 250 degree oven. Cook 8 minutes per pound or until an internal temperature of 125-130 is reached. Take prime rib out and let rest for 10 minutes. For fontina fondue, place heavy cream into pot and boil. Reduce by 1/3 and place in bowl over double boiler. Add fontina one piece at a time, stirring until fully incorporated. Add parmesan. Whisk in egg yolks slowly, and continue to cook very slowly until sauce is thick and creamy. Season as needed. Slice the prime rib as thinly as possible. Place 2 oz of meat on each silver dollar roll. Ladle 1 oz of fontina fondue on top. Serve.

Carrot Cake Fritters
(Steve Chiappetti, executive chef, Viand Bar & Kitchen)

Carrot Cake:
- 5 cups flour
- 2 ½ tsp baking powder
- 2 tsp baking soda
- 2 ½ tsp cinnamon
- 1 tsp nutmeg
- ¼ tsp cloves
- 2 lbs carrots, peeled and shredded
- 3 cups granulated sugar
- 1 cup light brown sugar
- 8 eggs
- 3 cups corn oil

Directions: Mix in a bowl the flour, baking soda, baking powder, salt and spices. Add the shredded carrots to the dry mix. Beat the sugar and eggs together, and slowly pour the oil into the egg mixture until light, frothy and well emulsified.
Add in the dry ingredients. Pour into a greased hotel pan and bake at 350 degrees and bake until a toothpick comes out of the center clean. Cool and cut into 1 ½ x 1 ½ inch cubes. Recipe makes 40 bite sized portions.

Sweet Tempura Batter:
- 1 cup flour
- ½ cup powdered sugar
- ¼ cup granulated sugar
- 2 ½ - 3 cups soda water

Directions: Combine dry ingredients and whisk in soda water slowly, until desired consistency is reached. Refrigerate.

Drizzling Sauce:
- 1 cup sour cream
- ½ cup no pulp orange juice
- 1 tps powdered sugar, plus more for sprinkling

Directions: Whisk together sour cream and orange juice. Once combined, whisk in powdered sugar. Set-aside to drizzle over cake.

To serve, dredge carrot cake cubes in powdered sugar, then dunk in tempura batter, making sure to coat all sides. Place in heated oil, and fry until golden brown. Remove from oil and let excess oil drip from cube. Place 3 pieces tempura fried carrot cake cubes in a pyramid on a place, drizzle with drizzling sauce and caramel sauce, then dust with powdered sugar. Serve.

The Heiress
(Ben Galatz, partner, Krem)

- 1 ounce Mathilde Raspberry Frambois
- 7 ounces Grand Krug Cuvee (or any sparkling wine)
- Fresh mint leaves chilled and strained
- 1 sugar cube

Directions: Strain and chill mint leaves, then serve ingredients in a champagne flute with a raspberry truffle (or any flavored truffle of your choice) garnish.

The Urlacher
(Bob Bracy, general manager, South Water Grill)

- Grey Goose L'Orange
- Milagro tequila
- Strength Vitamin Water
- Bacardi 151

Directions: FIll a pint glass with ice. Add 2 parts Grey Goose L'Orange, 2 parts Milagro tequila, then fill with Strength Vitamin Water. Put a splash of Bacardi 151 on top.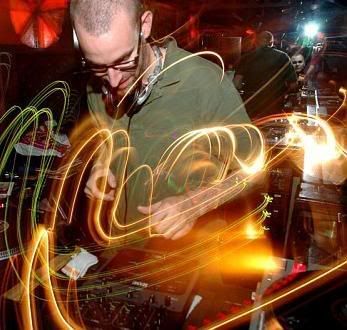 DJ White Shadow's Top 10 List
"Banquet" (Block Party)
"Black Mags" (The Cool Kids)
"Gold Lion" (The Yeah Yeah Yeahs--Diplo Remix)
"I'm Ready" (Kano)
"Rush, Rush" (Debbie Harry)
"Saturdays" (Cut Copy)
"Sex Planet" (R. Kelly--WHTSHDW Remix)
"Stronger" (Kayne West--Mano Remix)
"Way She Dances" (N.E.R.D.)
"Your Mama" (Kennedy)