Further Persons Imperfect offers a story for everyone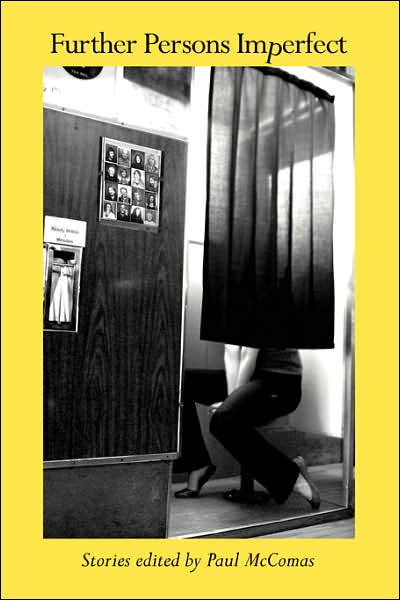 by Cory Robertson

Further Persons Imperfect is a collection of stories the whole family can relate to—crazy uncle and rebellious teenage cousin included. Written by authors ranging from 20-somethings to senior citizens, the anthology is at once cleverly wrought and daringly unpretentious. "These writers write the old-fashioned way," says editor Paul McComas. "No postmodern pretenses or self-indulgent formal trickery; it all comes down to stepping into other people's shoes, experiencing their lives and testifying."

McComas' own story in the collection is a testament to this philosophy. In "The One that Got Away," he inhabits the voice of a rustic fishing guide telling the story of a yuppie-tourist's misguided attempts at fisherman's glory. "Don'tcha go telling me no fishing stories, 'cause I got the one to beat all," opens Aldo Vesper as he sets the premise for his tall-tale account of a giant fish and its questionable behavior. The story is emblematic of the style found in Further Persons Imperfect—clearly written prose, with a line of action to draw the reader in and a generous helping of character development.

The stories of Further Persons Imperfect often walk the line between the real and imagined, sometimes venturing into the realm of fantasy while other times simply playing with the reader's perceptions before doling out a reality check. Moira Sullivan's "The Pawnbroker's Deal" is a fable of sorts, albeit a vivid and grotesque one: The main character in her story arrives empty-handed at a seedy pawn shop, only to reveal that the item she has available for barter is nothing less than the beating heart inside her chest. "Product Placement," by Elizabeth C. Rossman, a story of social welfare in a vaguely futuristic society, creates an imagined setting, thereby placing the story in the fantasy genre while sticking to a universally realistic storyline.

Though Further Persons Imperfect includes an array of fantastical stories, it contains more than enough gritty realism to cancel out any truly escapist qualities the collection might have. Early in the collection, Marie Thourson's "The Itch" chronicles the development of a young girl as she moves from her mother's faulty protection to the seemingly more stable life offered her by an older man with a child and a trailer home. Heather Swartz's "What You're Looking At" focuses on the plight of an unfulfilled woman, nearly middle-aged, who attempts to blend in at a white-trash party thrown by kids over a decade younger than she is before ultimately connecting with the hostess's neglected child as he receives his shoddily delivered insulin shots. Suffice to say that Further Persons Imperfect does not shy away from unsavory details.

This Friday, Nov. 16, a group of First Persons Imperfect authors will read at the Writers Workspace. "Several of the contributing authors will read from—and in some cases 'perform'—their work," says McComas. "Short pieces will be presented in their entirety; longer pieces will be excerpted." An additional, multi-media reading will take place on Monday, Nov. 26 at the Lakeview Lounge.

Further Persons Imperfect is the follow-up anthology to 2003's First Persons Imperfect, also printed by enablers of self-publishing, iUniverse. The collection is supported in part by Northwestern University and is the product of Paul McComas' privately run Advanced Fiction Workshop. A portion of all proceeds are donated to Boys Hope/Girls Hope, a not-for-profit network of group homes for gifted but at-risk youth.

The Further Persons Imperfect reading will be at the Writers Workspace (5443 N. Broadway, 773/907-0336) Nov. 16 at 7 p.m.